Commercial collaboration with Bugaboo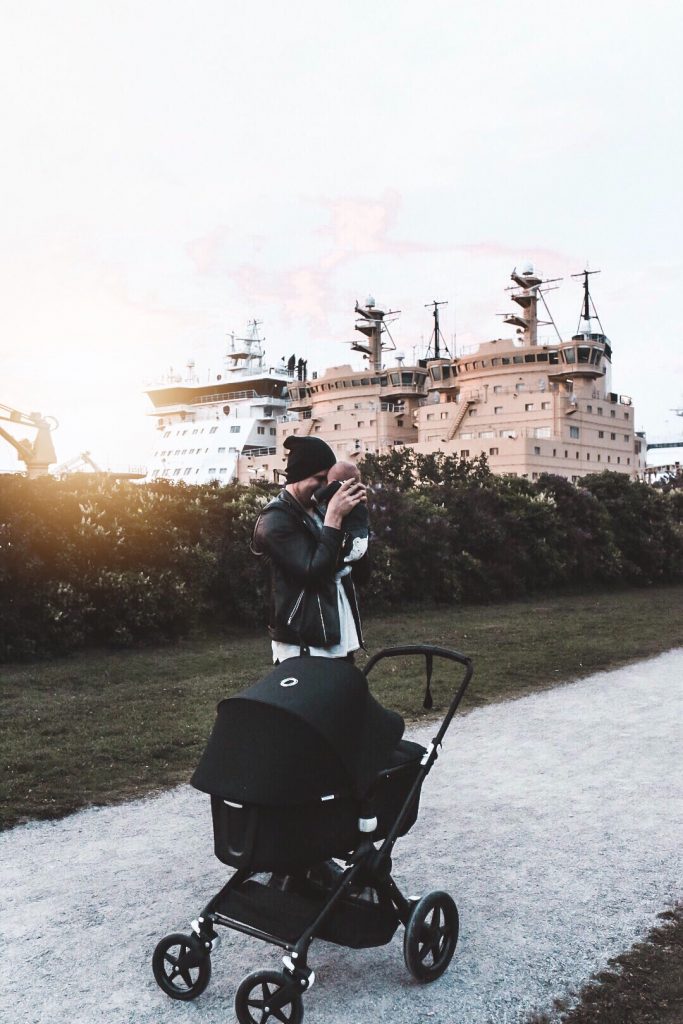 When we first realized that we are going to have a baby, we were a bit confused as we knew NOTHING about babies. Of course it was the best news we could ever hope for, but listening to our friends´ advices about all the baby-related stuff and the seemingly endless list of necessary purchases felt a bit chaotic to say the least. On top of that, we are very precise about the stuff we buy, so we thought there was a rocky road ahead of us. There were many important decisions ahead and one of the most essential things were the baby strollers. We really needed to find versatile strollers as we move around a lot and spend a lot of time on both city and countryside. At first all of the options, the models and their different details seemed endless.

Even though we didn´t know much about babies we, especially my boyfriend, seemed to have a lot of opinions and criteria about the strollers. Which was good, since my main concerns were the looks and the color. "Black and stylish" was my only criteria, whereas he was more interested in usability and adjustability, etc. He is really tall and I am, well…normal height, so the stroller needed to be easily adjustable on the spot. Other necessary features were large, turning front wheels that can handle any kind of terrain.

With all this in mind, we set out to the shops one Saturday morning. We were prepared for a quick spin, since we usually know what we want as soon as we see something we like. Little did we know about all the options and different models…after about 1.5 hours, tens of models and hundreds of details later, we left the shop dazed and confused. We were trying to wrap our heads around the world of strollers and a week or two went by. Then things got even more complicated. You see, we bought a 110-year-old, 2nd story apartment with no elevator or handy storage room for strollers. So everything is a bit illogical, narrow and NOT designed for handling small babies or strollers. But old houses look nice and they are very atmospheric, right? And don´t get me wrong, we wouldn´t live in any other type of city home, so the strollers had to be able to tackle this challenge as well.

By now, it was clear that the strollers needed to be light and they had to fold easily as they had to fit into small gaps when stored and handled in a small packed room. So we headed out to the stroller shops again with our long
list of requirements. Pretty soon it was evident that only one stroller would meet our demands. It had all the looks and the gimmicks we needed. Our stroller of choice was Bugaboo Fox.

It has a VERY smooth ride, big wheels, advanced suspension and a comfortable stroll. I never knew that strollers even had suspension, but this one has an all-wheel suspensions system, which works really well on the
bumpy streets of Helsinki. The seat is positioned optimally, so out height difference is not a problem when lifting the baby in and out. Everything is also easily and quickly adjustable, even on the move. Fox is also very compact and it is easy to store at home or in the car as we travel between the city and our summer house. You can even take the wheels off with a push of a button and put them back on just as easily, very handy when you have to use every square inch of your car when you load it for a weekend getaway! Fox is also very robust, so it is the ideal choice for the ever-changing terrain and weather conditions in Finland. And of course it is a product that lasts, as it is made from long lasting materials and fabrics
made from recycled materials.
So far, we have mainly used the strollers in the city, but they have been excellent so far! We literally have no complaints, the ride really is smooth and the handling is really smooth! Also, the front wheels are the best, they are so nimble in quick sharp turns and you also can lock them facing straight forward, if you are on a sketchy surface. So we are not worried about winter conditions.
And last but definitely not least, the looks! This was the ultimate challenge, since I am VERY precise about the design of the products I use. But the Fox tackled that challenge, too! I am very happy about the design and the
way they look. To me, this model is easily the best looking stroller out there. Believe me, I have had my eyes on every stroller I have seen in the past months and I haven´t seen other models that are even close with their design. So if you are looking for strollers that are safe, easy to use, have a smooth ride and style, look no further, because Bugaboo Fox is in it´s own league when it comes to modern strollers!